First: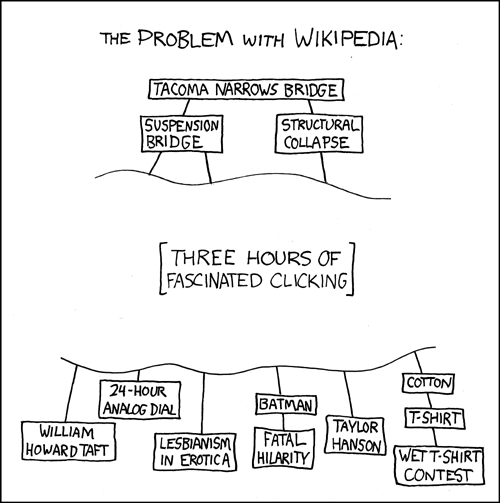 (from xkcd)
Also, I met up with Anna and Rach at Riminis, and got pasta and cheesecake and coffee and it was good. Thankyou girls for a very nice night out! Much conversation with people who actually know what I'm talking about when I complain about sparklie thread or compare needle brands. Or complain about 25ct. Or...*giggle*
Anna reccomended Glissen Gloss, and is going to give me some to play with - I'll test stitch a patch, and if I like it it will get used on Froggy Frog World (and I can make some rapid progress on it!) She also recommended that I do what I've been thinking about doing - taking down my bed for the time being and putting my old bed in its place so I dont have to climb up into bed, which takes more energy than you realise until you dont have any. It also means I can put my lowery stand under my bed...and stitch in bed, when I wake up, going back to sleep when I feel like it unlike out here where I stay up regardless. Silly me. She might also have converted me over to scroll rods, if I like the ones she uses...uhoh *grins* I like drum tight tension, and I can't get that on Q-snaps. Scroll rods would mean that I dont get to swap around projects as often, or that I need to keep my smaller ones on multiple frames/do them on qsnaps but if they had the tension, then they would be good. Ugh, Birch ones are horrible! Apparently these are really good, but also expensive...we'll see. They might be worth spending money on, if I really like them. Would also mean getting the scroll frame holder for my Lowery but I don't mind. The only thing I couldnt use them on would be MX, because its already bead and crystalled, but thats ok. Would be especially nice for my big HAEDs, would make stitching much faster. We will see. I would really like to get some of the big projects back out again, and depending on what gets done tomorrow stitchywise (I also need to do some cleaning in my room or Troys dad (who is helping take apart my bed) will have a heart attack - he's a neat freak) I would like to get Noon Basking back to see the light of day. As soon as I get caught up with MX, it will be the first to come out and get stitched on! I miss it. I need to work on A Restful Night though, I will be stitching as a TOW girl because I spent today sorting threads into a master set of DMC instead. Should make life much easier for small designs, or large patches of detail, and means that I dont have to 'kit' every single project for DMC. Especially quickstitches! All those colours, and only a few stitches in each.
A Restful Night should be easier due to me having done this, too. I'd like to get some wing done tomorrow if I can, not just more background. Maybe even start some hair.
Im also seeing Terry tomorrow, so we should be able to figure out something about what's wrong with me. That would be good.