Sorry, I know its been more than a week!
I'll list the projects I've worked on, and comment on each of them, since I can't think of any other way to do it!
Mystery X:
I got thoroughly fed up with the beading, and haven't really stitched much on it this week - bad Kyrie! I'm so close to finishing part 3, but I have other pretties to distract myself with and I haven't worked on it since that picture until today. now another of those beaded borders is almost done, and I've half frogged the one that I wasn't happy with. Frustrating, but worth it. If I work at it this afternoon and tonight, I might even get it done today! Part 4 is gorgeous and not big - mostly backstitching, with some corners in the same beading pattern as these borders, and a little bit of cross stitch. Shouldn't be hard, and will look great. I'm very curious as to what part 5 will be - Troy's mum and I reckon it will be a hedge between the corners and above the borders, but we'll have to see!
From the Ashes:
I worked on her for the SAL, which was most enjoyable until I finished the top 30 rows and discovered I didn't have a lot of the threads I needed for her wing - *sigh*. I did do a lot of the background confetti though, and filled in some of the solid colour background as well, and stitched most of the wing that I could leaving the gaps to be filled when I get the floss. This new method I've discovered for stitching her seems to be working really well, which I'm very glad of! It's sad to put her away for the time being, but hopefully I'll get a chance to work on her again before the next SAL, if when I get my threads.
Tranquility Mystery:
I've got almost all of page 2 done, except for some of that massive red thing - I like the design, I hate stitching it. I am going to have to grit my teeth and get it done too! I really need to catch up on this... the yellow motif is my favourite of all of them so far, and I love the yellow colour too!
Japanese Octagon Box:
I got my finishing kit from Judy the other day, which was very very fun, and I got the old key from Martina as well which meant that I could stitch on the grass this monday. I frogged all the incorrect stitching, and added some more, and it looks wonderful. Photos really do not do justice, but I will try.
apart from all this, I also did lots of fabric dyeing for prac 1 for craft this year too - with Peta (future MIL) and was MUCH FUN! We got dye everywhere and the acid ate the foil off her reflector thing that she puts in her car....but it was worth it, even the clean up! See?
Also, I've discovered somewhere that sells 100% cotton sheeting...white, 2.5m wide, for about $7/m which is GREAT, and I bought 4m. 2m of that got used for the dyeing, and 2m I have kept because I will use it to make the mockup of my dress, the patterns for which should be sent today by the people I ordered them from - I sent them an email inquiring and they're sending them *now*, about 3 weeks later!!! grr. Oh well. I will get them and then have fun making the dress. What Peta and I have decided is that I'll make a proper mockup, with long sleeves, then cut the sleeves short, make an underdress, and dye both. I want the underdress a solid colour, but the overdress dark at the bottom shading up to light at the top, thinking a turquois-y blue with a dark blue underdress or a deep pink with a purple underdress, and then stitch cutwork dragonflies all over it. Sounds like fun! I can't see the point of making a dress, even a mockup, that I wouldn't be able to wear, so I'll get a nice summer dress out of it too. And dyes mean that if I buy some nice ribbon we can dye the ribbon too to match the dress...*grins*
I also want to use the sheeting to make underthings for the doll I've been meaning to dress for years. It's cotton, so it should be good! It's also good for petticoats, which I may have to do something about. I love the rustle and feel of petticoats, and they look good under full skirts.
Oh, and if you're wondering what I look like while stitching, here I am: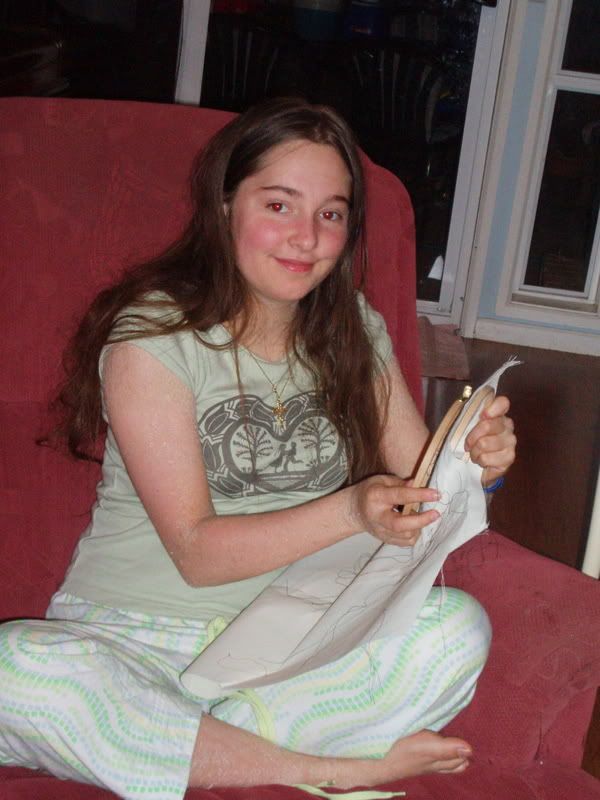 I was putting a hoop on the aida for the samurai that Troy has just started stitching. He's almost finished something else too (just needs to finish the backstitching) and when he does I'll post it :) it looks really good!
EDITED: to add photos