Lets see if blogger doesn't eat my photos this time?
I'm working on Mystery X at the moment, which I'm thoroughly enjoying - this part is all swirly! No photos of it as yet, I don't want to take one until I've finished the part. I've decided that I'm going to stitch the beads a part behind (so they don't get in the way) but add the crystals last, I don't want to lose any. There are these sort of flower shaped holes in this part, as well as some square ones and some odd shaped ones, and we haven't got any instructions for them - I guess we'll get them in the next part. I think they'll be flowers in beads and crystals, but I'm not sure yet - it'll be nice to find out! They look a bit weird at the moment though, big holes in my work.
Anyway, here's some pictures for you all - old ones, but blogger kept eating them.
Mystery X part 1 (without beads or crystals)
2x2 on 32ct Antique White linen, with recommended silks and metallics
Hope Angel Virtue:
2x1 on 25 ct Days Gone By linen, DMC and Kreinik #4 braid
Isn't she pretty? I've got a bit more done now, but she's been put down until I finish this part of my chatelaine, or until she comes up in my rotation, whichever comes first.
And finally my phoenix - From the Ashes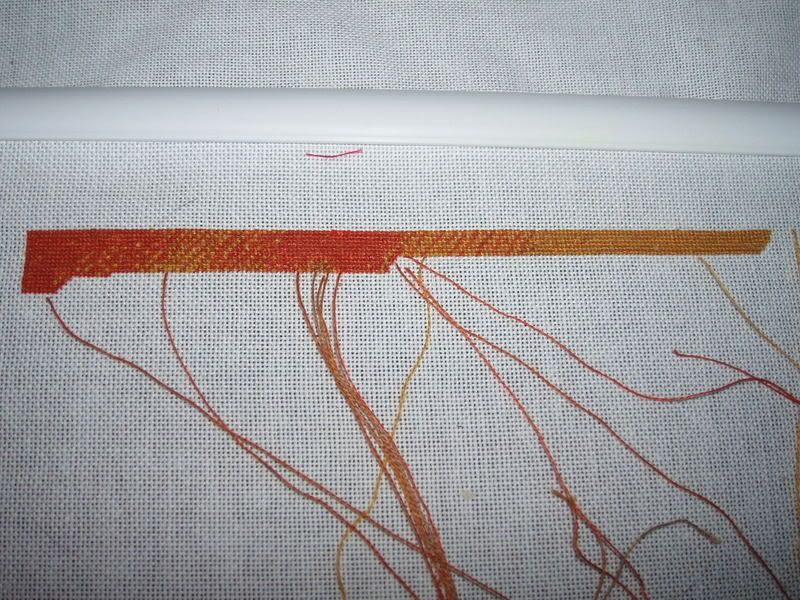 1x1 on 32ct white jobelan
I'm loving the shading, but it seems like it takes forever to get anywhere. It's beautiful, anyway. I'm still waiting on the threads for Georgie - she posted them but the post seems to have eaten them. I'll get them eventually, I know, just a bit irritating at the moment. I've got enough to do this month's SAL at least, and maybe a bit more if I keep going after the SAL. I thought about just stitching on it during the SAL, but I'd like to see more done on her, so I'll work on her other times too I think.
The pictures of the part 2 WIPs are beautiful, I can't wait to see this one finished! I'm liking how mine's stitching up too - of course! Especially the 'honeydew' silk - it's a new colour this part, and such a pretty green.